The 12% Solution: Earn a 12% Average Annual Return on your Money
By David Alan Carter,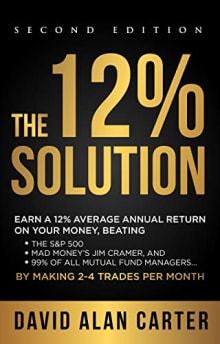 Why this book?
This monthly approach uses three-month momentum to select two funds from a pool of four stock funds and two bond funds. The stock indexes are the S&P 500, S&P MidCap 400, Russell 2000, and Nasdaq, i.e. US large caps, mid caps, small caps, and tech. It's not a revolutionary idea but provides a good introduction to major asset class switching, which runs circles around pundit guessing games. If you do nothing but swear off gut-guessing in favor of price reaction, you'll beat almost everybody—including the supposed pros.
---