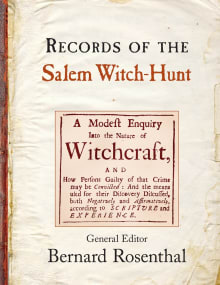 Records of the Salem Witch-Hunt
By Bernard Rosenthal
Why this book?
This edition of the actual court papers provides not only a more accurate transcription, but also adds previously unpublished documents, background material, and extensive notes that both clarifies obscurities and identifies the individuals who wrote even the unsigned manuscripts. (Disclaimer: I was one of the project's sub-editors.)

From the list:
The best books to understand why the Salem Witch Trials occurred
When you buy a book we may earn a small commission.