Shadow Divers: The True Adventure of Two Americans Who Risked Everything to Solve One of the Last Mysteries of World War II
By Robert Kurson,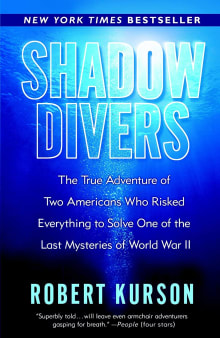 Why this book?
Back before extreme sports were a thing, people found personal ways to test themselves. In this case, we have guys from New Jersey who did scuba diving to depths that were the edge of both human physiology and the technology of the time, while exploring sunken wrecks over 200 feet below the surface. For fun. Then they tripped over a lost Nazi submarine. Off the coast of New Jersey.  
It sounds like the worst kind of B-movie nonsense, but it's true. Two of the men become driven to not only document the submarine's provenance as an actual German vessel, but to identify it and contact the relatives of the perished soldiers. From wild-men who crawled inside sunken passenger liners for kicks, they became dedicated researchers determined to bring closure to those left behind, regardless of the risk to themselves.   
---