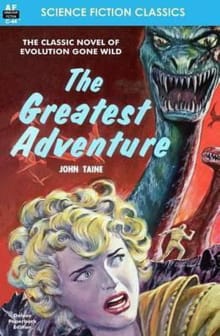 The Greatest Adventure
By John Taine
Why this book?
To take a break from his day job as Professor Emeritus of Higher Mathematics at Caltech, Eric Temple Bell (John Taine was his pen name) wrote a series of science fiction novels that dealt, not with mathematics, but largely with biology. Any of these are still quite readable today, and notable for their discussion of biology and related fields when most writers of science fiction were focused on physics and space travel.
The Greatest Adventure deals with mutated dinosaurs in Antarctica, which sounds like something out of a 1950s horror film but which Bell uses as the basis for an…
From the list:
The best pre-1935 science fiction novels for modern readers
When you buy a book we may earn a small commission.