How to Raise an Adult: Break Free of the Overparenting Trap and Prepare Your Kid for Success
By Julie Lythcott-Haims,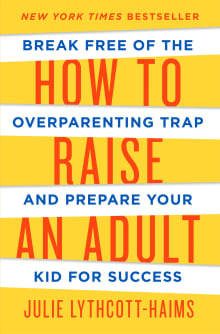 Why this book?
Julie was a former Dean of Students at Stanford University. She shares how she realized that she was working with kids who had "checked every box" and earned acceptance to one of the most selective universities in the world. However, she could not help but notice that despite their stellar list of achievements and impressive resumes, they sorely lacked the skills necessary to transition to the adult world of navigating normal roommate conflicts or even making minor decisions without the help of their parents.
This book is a great reminder that as parents, our ultimate goal is to prepare our kids to transition into adulthood with the necessary tools and skills to "adult" successfully. I had the opportunity to meet Julie personally, and her compassion, wisdom, and experience are genuine – this is required reading for parents. 
---