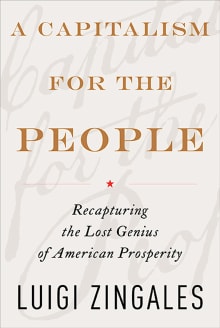 A Capitalism for the People: Recapturing the Lost Genius of American Prosperity
By Luigi Zingales
Why this book?
Zingales is a brilliant academic economist, but this book leads the reader with both head and heart. Zingales is concerned that the US is on a path to similarities with his native Italy, where markets and politics are both corrupted by cronyism and nepotism. The book's appeal is that Zingales's compelling argument cannot be put in a left or right box. He lays out evidence to suggest that more open competition will address both the inequality concerns of liberals, as well as the free market priorities of conservatives. Today, Zingales seems to suggest, we have the worst of both worlds.
From the list:
The best books on economics and globalization
When you buy a book we may earn a small commission.