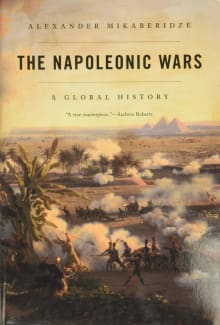 The Napoleonic Wars: A Global History
By Alexander Mikaberidze
Why this book?
Although the Napoleonic Wars are most commonly discussed from a French perspective, with their roots in ideology and the Wars of the French Revolution, they are increasingly being understood as the climax of conflicts over power and colonial possessions that had raged between the major European powers across the long eighteenth century. In this hugely ambitious and highly readable book, Alex Mikaberidze considers the Napoleonic Wars as part of a wider global conflict in which France and Britain struggled for dominance, a conflict that extended to the Americas, Egypt, Iran, the Indian Ocean, even to China and Japan, and assesses…
From the list:
The best books on the global history of the French Revolution and Empire
When you buy a book we may earn a small commission.