Fresh Eggs and Dog Beds: Living the Dream in Rural Ireland
By Nick Albert,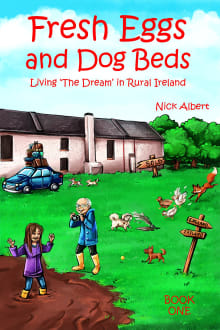 Why this book?
As a doggy person, this sounded a fun book, an added attraction being that it is a memoir about moving overseas. The author, and his wife, Lesley, buy a property in a rural part of Ireland. Sounds simple enough, but having done the same ourselves, I guessed there might be challenges ahead. Nick skillfully draws the reader into his world. I felt as though I was alongside them as he describes the properties they visit and misadventures along the way. The anecdotes about their dogs are delightful. His descriptions conjure up pictures of a stunningly beautiful country filled with enchantingly quirky people. No wonder they quickly fall in love with it.
Nick's sense of humour is infectious and wonderfully appealing. I finished wanting more. Luckily, through the success of this first book, he launched a series. I have read and loved each subsequent episode and look forward to his next publication.
---