Discourses, Fragments, Handbook
By Christopher Gill, Robin Hard (translator),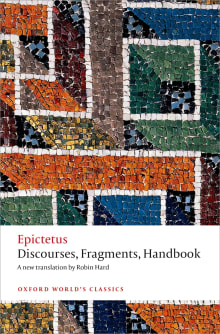 Why this book?
Author Elif Batuman wrote of the Stoic Epictetus, he "won me over with his tone, which was that of an enraged athletics coach." He is feisty, demanding, sarcastic, but he can be surprisingly poignant and occasionally empathetic to his audience. Epictetus himself wrote nothing; what survives was written down by a student. We therefore witness Epictetus live as he works with his own student or even when he talks with magistrates who would came to consult with him at the end of the day. Epictetus had been a slave early in life so it packs quite a wallop when he tells freeborn Romans that they have the worst kind of slavery: enslavement to external goods at the cost of their inner freedom.

---