The Iliad
By Homer, Robert Fagles (translator),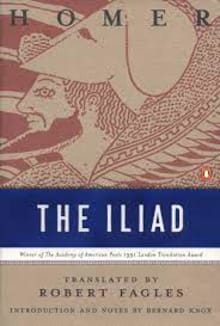 Recommended by Paul Cartledge
From Paul's list on ancient Greece and their world.
I am cheating a little here because 'Homer' can refer to either the Iliad or the Odyssey or both. Either way, those are the two foundational works of ALL western literature and of much 'world' literature besides. They are both very very long verse epics, originally composed and handed down orally by a combination of memory and performance improvisation, but eventually committed to writing in the Greeks' then-new alphabetic script. 
If there was just one poet called Homer, his genius lay in his selection of a single unifying theme for both monumental poems – the anger of Greek hero-warrior Achilles (Iliad), and the ten-year travels and travails of petty Greek island king Odysseus (Odyssey). But most of us think that two different 'monumental composers' did the business. 
Both epics spoke to and helped form the ancient Greeks' sense of identity as a people, the Iliad in…
---