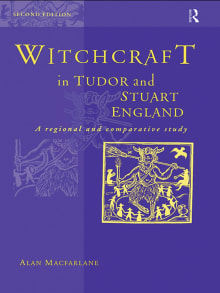 Witchcraft in Tudor and Stuart England
By Alan Macfarlane
Why this book?
Originally published in 1970, this was another foundational text for me and other witchcraft scholars of my generation.

It grew out of Macfarlane's doctoral thesis focusing on Essex, which had been supervised by Keith Thomas, whose own great book, Religion and the Decline of Magic (much of which dealt with witches), came out the following year. Even then, the historian Macfarlane was on his way to becoming an anthropologist – a transition visible on every page of this fascinating book.

But its overriding character is that of a work of sociology. Social science models helped to impose interpretative order on…
From the list:
The best books on witch hunting in Britain and Europe
When you buy a book we may earn a small commission.