Sailing Alone Around the World
By Joshua Slocum,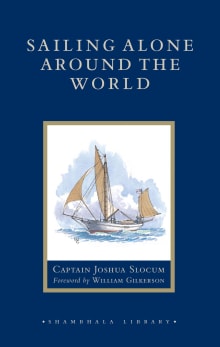 Why this book?
One of the great pure sailors of all time was Joshua Slocum. Born in 1844 in eastern Canada he remains one of the most renowned sailors of all time—deservedly, because he completed the first documented circumnavigation of the world alone in a sailboat. A severe-looking man in maturity with a completely bald head and a very full goatee. His four children were born at sea on his ships. And his adventures literally around the world are too numerous to enumerate here. Suffice to say, this was a man "rocked in the cradle of the deep," with saltwater in his veins.
Toward the turn of the century, in his early fifties, he decided to build a small sailing vessel and sail alone around the world. It was the seminal moment in his life, and he'd describe it beautifully in this marvelous tale. Slocum faced all the perils one would expect: terrible weather, near collisions, piracy, sheer loneliness, mediocre food, near shipwreck, and plenty more. Joshua Slocum quite modestly makes Spray the real hero of the book, and by the end, the reader loves that little boat too, along with learning a great deal about life at sea.

---