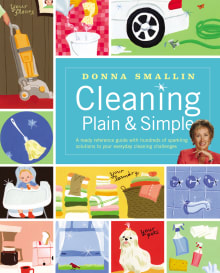 Cleaning Plain & Simple: A Ready Reference Guide with Hundreds of Sparkling Solutions to Your Everyday Cleaning Challenges
By Donna Smallin
Why this book?
This is a great roundup of cleaning ideas. Donna is particularly good at stain removal (even from window blinds), tool recommendations (which vacuum for which job), and safety (how to prevent mold and mildew). I'm a very visual learner, so I love all her charts that simplify so many tasks. She's also not afraid to get into the chemistry of why things work.
From the list:
The best home organization books
When you buy a book we may earn a small commission.