Fancy Nancy: Budding Ballerina
By Jane O'Connor, Robin Preiss Glasser (illustrator),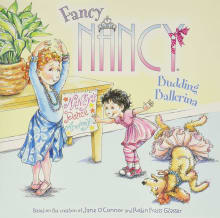 Why this book?
The Fancy Nancy books are hugely popular, and this is a great addition to the series. Nancy loves to dress up and dance, and in this story she sets out to show her favorite ballet moves to her father, with touchingly humorous results. Young readers will enjoy following along as Nancy demonstrates her best plies, pirouettes, and jetes, and will probably be inspired to start their own ballet lessons!
An entertaining way to learn basic ballet positions, and a special treat for devoted little ballet students and their families.
---