The Night Manager
By John le Carré,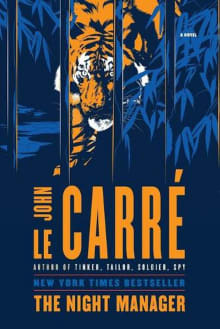 Book description
In The Night Manager, an ex-soldier helps British Intelligence penetrate the secret world of ruthless arms dealers.

At the start of it all, Jonathan Pine is merely the night manager at a luxury hotel. But when a single attempt to pass on information to the British authorities - about an…
Why read it?
3 authors picked The Night Manager as one of their favorite books. Why do they recommend it?
Mark Pawlosky
John Le Carré, the undisputed master of espionage, shifts gears in The Night Manager as the Cold War ends and an unsteady detente emerges in Europe, creating a power vacuum quickly filled by mercenaries, arms dealers, and drug smugglers who accumulate vast fortunes in the black markets that spring forth.
This book rekindles the flame for Le Carré readers who thought his best storytelling days were behind him.
James E. Mack
Of course, this list would have to contain at least one book by the undisputed master of the genre.
Le Carre has written many great espionage novels but to me, The Night Manager remains my firm favourite.
I think the plot of hapless chap thrown into the world of illegal arms trafficking, intelligence agencies, and ruthless organisations grabbed me from the start.
But, as with all Le Carre, there is much more depth to our main character, Johnathan Pine and he has a past of his own to contend with.
All in all, a terrific mix of great characters negotiating…
Benjamin Buchholz
Well, in my opinion, pick any LeCarre spy novel and you're already winning at life. The slowness with which they sometimes seem to move becomes like a morphine dripline direct into your veins, and by the time you realize exactly what sort of gray-on-gray world the characters inhabit, and what qualities at first ambiguous but later crucial allow them to act with ambiguous heroism, you'll get a true flavor of MI6.